Wedding photography is a hard task that comes once in a while. That means it leaves no room for mistakes. It is a special day for the couple, so they would want their photos to reflect the greatness of that day. Thus, photo shooting is something worth practicing ahead of the wedding day. The last thing a wedding photographer would want to do is to make a grave mistake. First time wedding photographers should start by researching things such as the theme of the wedding and the interests of the couple so that they don't leave anything to chance. Here are a few wedding photography tips for beginners that can get you started.
Discuss with the Couple
Meeting up with the couple should be the first thing before you even start planning for a wedding. Discuss the requirement of the wedding, including special requests. While this may sound odd, it can help you understand the expectation of the couple as far as wedding photos are concerned. After all, different couples have different outdoor wedding photography requirements! Remember, it is the first wedding photography tips for beginners, we mentioned. So, don't neglect this.
Check Out on the Location
Touring the wedding venue beforehand can help determine the best wedding photography tips and spots to take photos. That can also help ease tension before the wedding day arrives. Consider going to the venue with the couple so that you can get their input as well. You can take a few test shots in various spots so that you have an idea of what to do during the wedding day.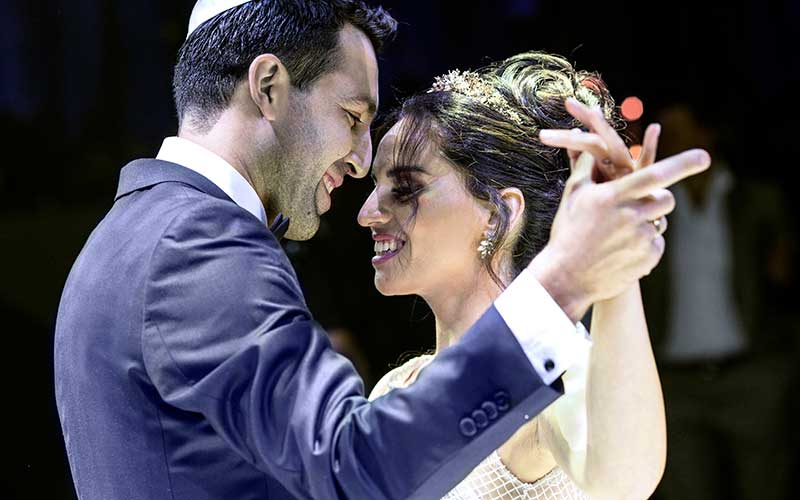 Create a List
In collaboration with the couple, create a list of guests to photograph, including who should feature in which group photos. Your client would probably feel furious to find out that their family or friends aren't in any photo. Leaving their grandparents out of a family photo would also make a couple feel not impressed with your work.
Practice before the Wedding Day
Practicing before the main event can increase your chances of success. You're doomed to fail if you walk to the wedding party without any photographing experience. So, build upon your photographing experience by taking photos of family and friends around the house. Consider taking your friends to the wedding location with you so that you can practice and gain confidence ahead of the wedding day.
Have a Backup Plan
Lack of a backup can cause problems, especially if the weather ruins all your preparations during the wedding day. Every photographer out there would dread facing an unfavorable weather condition on that big day. However, with a backup plan, beginner wedding photographers can take advantage of the situation and capture memorable photos.
Giving a couple a white or black umbrella can help get the most out of bad weather and some contrast. A beginner photographer can also use the sky to their advantage by positioning the couple in front of moody clouds. As the photographer, insist the couple has an extra pair of shoes. The ground could get soft and muddy, and you would not want the bride to sink into the soggy ground.
So, notify the couple to bring a spare pair of shoes. You may need to have an alternative wedding venue so that nothing stops even if the rain disrupts some of your plans. You can ask if the venue owner has shelter rooms where you can take photos if it rains heavily.
Create a Photo Checklist
Experts recommend creating a photo checklist, including the key subjects and events that you will capture. That can work well for a beginner photographer who has little or no experience in shooting weddings. You may also need to get the input of the couple on this. Some of the things to include in your photo checklist include exchanging vows, the dance, cutting the wedding cake, the kiss, and walking down the aisle. However, don't forget to capture details such as the wedding dress, rings, and flower bouquets.
Prepare Your Camera Gear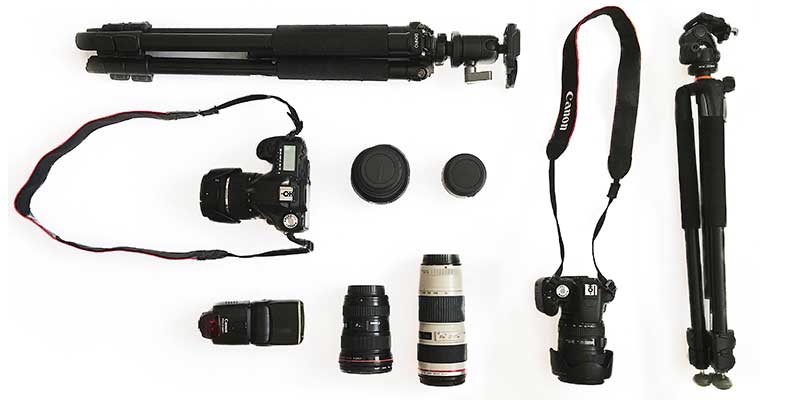 A beginner wedding photographer needs a few essential gears, which can include a backup camera. It would also be wise to bring a spare battery and memory card so that nothing halts. While a beginner photographer may not afford to invest in all this outright, renting out some of this equipment for a small fee or borrowing a friend can be an option. Some of the essential camera gear to include to your checklist can consist of a more advanced mirror less camera, a flash with diffuser, spare chargers and batteries, a camera bag, a range of lenses, and a tripod.
Bring With You a Backup Camera
A professional wedding photographer should bring with him at least one camera. Nothing can be frustrating than the battery depleting or an error occurring on a camera at the middle of a wedding ceremony. Thus, it is advisable to arm yourself with a backup camera to prepare for any uncertainty.
Create the Schedule of the Day
Nothing can be worse than being clueless about scenes to capture during a wedding. So, as a beginner wedding photographer, be sure to create a schedule of that big day. Find out the places where you can stand while taking photos. Scout the wedding venue ahead of time to survey the most strategic positions to take pictures.
You can do this during the rehearsals. Ask if the couple can accompany you to the rehearsals so that you can get their input as well. Bringing with you a spare photographer or asking the couple to hire one can also be helpful. An additional photographer can relieve a lot of pressure off your back, considering that you're a beginner wedding photographer.
With a second photographer, every moment of the wedding is likely to be captured. There is a high chance that the backup photographer will capture those less important moments you are likely to miss. Having a backup photographer can also enable delegation.
For example, you can ask the other photographer to photograph the groom and bride while you focus on the guests. It can be pretty challenging to take group shots if you do not know the couple's guests and relatives. So, ask the couple to designate one of their friend or relatives to help you with this.
Don't Manipulate
Never stage the dressing or ask the bride for smiles during the morning preparations. Stay on your toes and try to find out what could be the next move. Instead, get to the bottom of the stairs and capture the moment as the bride comes down. Wedding photographers rarely have time to relax, so never expect to have time to take a breath.
Get Alone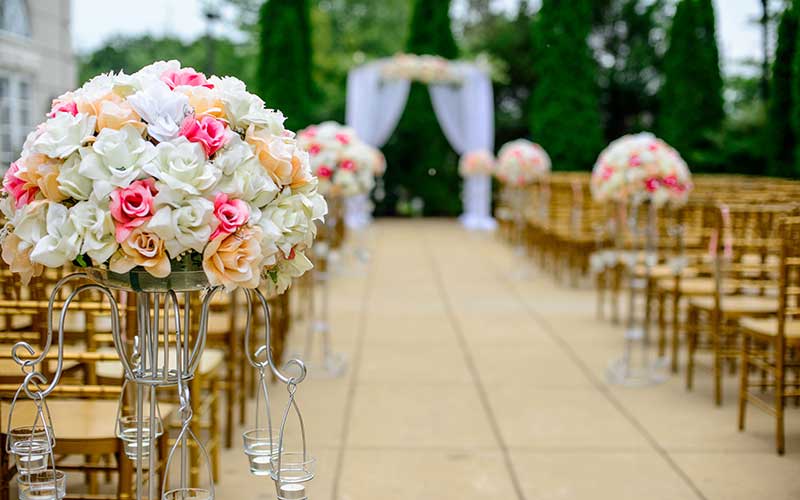 Spend a few minutes observing the flowers, the shoes, and the dress and take a couple of photos without people rushing around you. You will have plenty of time to capture every detail of the wedding while there is no one disrupting you. Then start taking photos of the guests and family members arriving at the wedding venue as well as the groom as he waits for the bride.
Dress for the Occasion
There is nothing like looking pretty as a wedding photographer. Even a female wedding photographer may need to forget the wedding protocol and wear a pair of trousers. Imagine how you would take photos with your skirt, limiting the positions you can take. Again, quiet shoes are a must for a wedding venue. After all, no one wants to spoil the best moments of the wedding while tiptoeing around.
Be Bold
Professional wedding photographers are never shy in front of the audience. Note that as a photographer, you are allowed to take any position, but be sure to use a zoom lens so that you don't come hip-to-hip with the priest. Be bold enough and strong, knowing that you can move around and shoot from behind the couple if it is necessary.
Fill In
Wedding photographers are often allowed to wander around the hotel room or wedding venue to snap any photos they think can be used to create a sense of location and ambiance when creating the album. You can catch anything around the house, including dresses hanging up and makeup brushes. There are loads of memorable things that you would want to capture if you are in the groom or bride's house. For example, take photos of their childhood bedroom and family photos around their room.
Be a Boss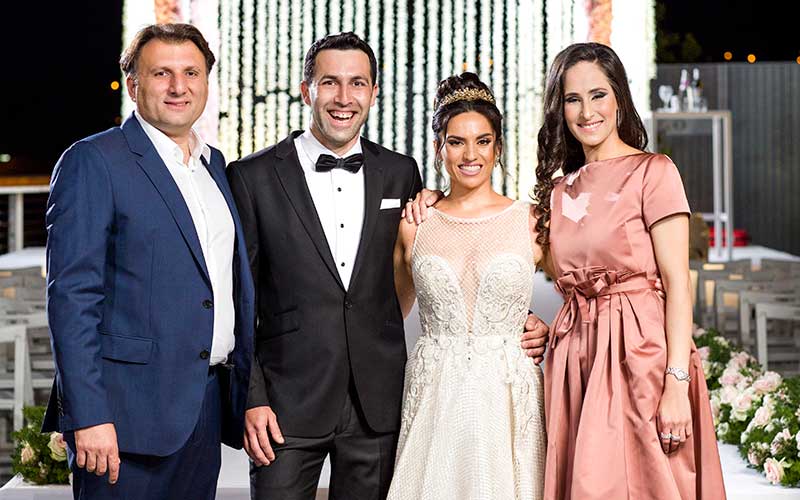 This is one of the important wedding photography tips for beginners. Your initial plan could be to take the couple away to a secluded location for private shooting. However, that can be difficult given that anxious guests and relatives can kidnap the couple.
However, a photographer can ensure that everything remains on track by enforcing the initial plan. While the couple might have told you what they expect, they can get distracted away from their program by tight schedules and anxious guests. Of course, guests are eager to get to the dance floor, and you, as the photographer, might be the only thing barring them.
So, have a list of the specific groups that the couple would want to get to their dance floor other than close family members. You can ask the couple to avail of someone who knows everyone to announce which groups are needed to the dance floor. You can take at least 30 seconds to photograph each group and get them engaged with the photographer all at once.
While this may not be as easy as it sounds, it can be possible. For example, the photographer can ask everyone in the hotel to look at him or her and smile and take a few shots. Beginner wedding photographers can also use features such as Photoshop to capture all smiling faces and put them into one large photo.
Be Professional
Nothing can be disgraceful than a poorly dressed photographer. It can be easy for a wedding photographer to fall into the fun of a wedding. After all, a photographer may not be any good if he or she can't have fun. However, becoming too lax and socializing with everyone can make you miss important moments.
So, remember you are at work and be professional. A smart photographer always brings with him some snacks to eat so that they are not tempted to take part in the buffet. Remember that the highest percentage of wedding guests are either looking for a wedding photographer or watching you. So, there is a need to retain professionalism at all times.
Avoid Flash
The pop-up flash is discouraged at weddings. Instead, have an external flash but avoid pointing it directly to the groom and his bride. You can point it to the wall or ceiling. Opt for a camera with a flash and zoom lens so that you no flash will be used.
Avoid Posed Table Shots
Almost everyone is not comfortable when the photographer keeps coming around them and interrupting their conversation, wine, and mealtime. Such photographers often forced to squeeze themselves into the middle for a photo. What would the groom and bride ever do with such an unprofessional photo? While it is every couple's wish to keep a record of everyone in attendance, it can be achieved in a beautiful way and without being intrusive.
A wedding photographer can easily make their guests uncomfortable if he or she becomes intrusive. One of the wedding photography tips for beginners is making yourself invisible. Wedding photography can be interesting work, but it can come with a fair share of challenges.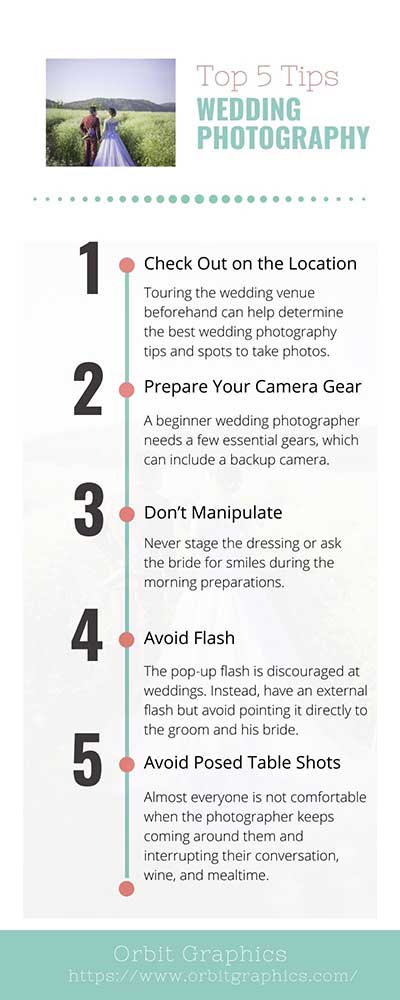 Bringing an assistant who can assist you as you take photos can be a bonus tip. Experts also recommend getting enough rest beforehand because wedding photo sessions can be tiresome. Overall, be confident and have a blast. After all, the couple hired you because they believed you could deliver quality.
Have you ever wondered how wedding photography would look like? Worry no more as this article has demonstrated useful wedding photography tips for beginners. It documents the overview of the wedding day, the stressful stuff, the fun moments, what goes on, behind the scenes, and how a beginner photographer needs to prepare ahead of the wedding day.
Beginner wedding photographers should be professional, like a boss, prepare their gear, meet up with the couple, and avoid posed table shots to make a wedding day successful and memorable. Checking on the location, creating a photo checklist, creating a schedule for the day, dressing for the occasion, and being bold are some of the essential wedding photography tips for beginners.